Coline Cornelis is a Brussels-based DJ & illustrator. After collaborating with British musician Rupert Clervaux on the artworks of the Zibaldone series, she released the LLIM01 mixtape on Laura Lies In record label.
In her first set for LDBK, Coline selected tracks illustrating the storm, the rain, a water stream, a light breeze,… Let's dive into her universe inspired by nature, its elements, their beauty and contrasts.
Tracklist
Jean C. Roché – Thrush Nightingales: In Willows at the Edge of a Marsh, Danube, May
Anouar Brahem – Le Chien sur les Genoux de la Devineresse (Pour Sabria)
Moritz Von Oswald & Ordo Sakhna – Tushumdo
Kali Malone – Cast of Mind
Yannis Kyriakides & Andy Moor – A School Burnt Down
Ketama, Toumani Diabate, Danny Thompson – Africa
King Krule – Bermondsey Bosom (Left)
Lhasa – El Arbol del Olvido
Ryuichi Sakamoto – Solari
Brian Eno – LUX (Nicolas Jaar Remix)
Tarotplane – A Tab in the Ozone
CTM – Paloma, Pt. 1 (Original Mix)
Alice Coltrane – Wisdom Eye
Xxxtentacion – Jocelyn Flores
Merzouga – De Rerum Natura / Dance of the Elements
Dictaphone – Rattle
Makmba – Raica
Khruangbin – Como Me Quieres
Os Tincoas – Deixa a Gira Girar
– How would you describe your mix? To me, it feels like slowly flying above the countryside.
Coline: I wanted the mix to feel like the sensation we feel when walking around and a bright spot (« éclaircie ») cuts through the clouds. When the sky clears up.
A flight over the countryside is a lovely image. Very close to the feeling I tried to suggest with this mix, so thank you!
– Is this set similar that what you would play live? What would be your ideal setup for a live set?
I used to compel myself to play songs that were a little more cadenced, a little catchier. I thought that's what people were waiting for. I stopped a little while ago because I realized that I really love it when the atmosphere is calmer, as a spectator as well as a dj. At a festival in the woods this summer, the audience was first lying on the ground, then gradually rose as the mix became warmer and sunnier. This was actually a perfect setup.
– You are also an illustrator. Where does your passion for music and illustration come from? Is there a common thread in your graphic and musical works?
I don't know. My mother always made it a point of honour to introduce me to culture in general, but these are not disciplines she mastered. These are two things that came on their own and have evolved just as independently. As a child I used to draw young girls dressed in a distinguished 90's style. As a teenager I listened to Arctic Monkeys and Beyoncé, and from there my tastes shifted swiftly, grew a little bit, just like many people I guess. I believe that in both areas, what I am most sensitive to is a form of pureness and simplicity.
– Music and illustration are two ways to tell stories. And there is also literature. You work at Passa Porta, the international house for literature in Brussels. What are you doing there? Does your passion for music and illustration translate into your day job?
I am in charge of production. I take care of all the practical aspects around our literary events: booking flights and authors' hotels, taking care of the technical means, setting up and dismantling the room… A lot of things! It allows me to be there at almost every event, and I love it because I learn a lot from authors, poets and musicians. Literature is something that matters to me, but I find it a demanding passion. Passa Porta encourages me to stick to it and even to expand it, I hope.
My bosses are very, very cool and appreciate the fact that I'm interested in different things. I have already been commissioned to draw illustrations or asked to compose a literary mix as part of my work… I have to say, this is the dream.
– Can you tell me a bit more about the LLIM01 project that you released last year? Why did you choose to release it on Bandcamp and to give all the money raised from downloads to a charity? Are you planning a volume 2?
It was the idea of my friend James Marrs, owner of London-based label Laura Lies In. We met thanks to an artwork I had done for Rupert Clervaux, and he suggested that I create a mix that would be released on cassette. I never would have thought of it, but I was ultra excited. It took me several months to mature the idea, then all of a sudden there was a click that aggregated everything. The result was a rather emotional mix recorded on 50 cassettes with a hand-made artwork, made of drawings and cut-outs. It premiered on Berceuse Héroïque last February.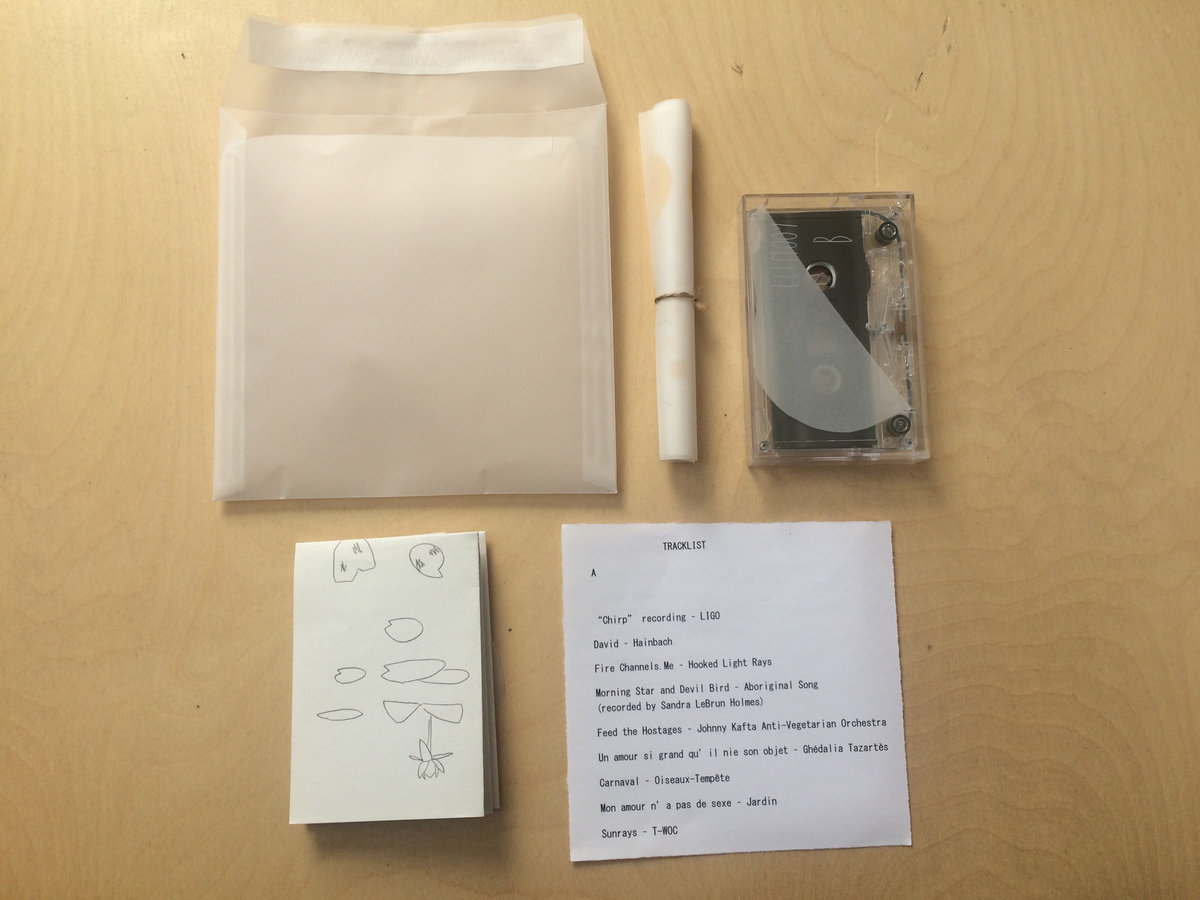 Mind is a mental health charity that is dear to James and Rupert, thanks to whom I discovered it. We most certainly didn't raise much money, and it was anything but the goal. I will always be happy to have created this little existing, material thing, that describes a fraction of a time of my being.
Volume 2 is not a sure thing. I vented in this, and if I had to propose another musical object, I would like it to be different. Equally personal, but with a form and content that would no longer have anything to do with it.
– What are your plans for the coming months?
I would like to slowly pick up with some lives in selected places, and I would like to work on a series of four mixes that would link music and drawing again. And yes, this is a call for potential micro labels interested in a physical release!
I also would like to do some field recordings and start composing on a small keyboard. We will see about that!
Follow Coline on Instagram or Soundcloud
Cover picture by Elodie Drareg
Thanks to Yann at City Tracks for the hookup